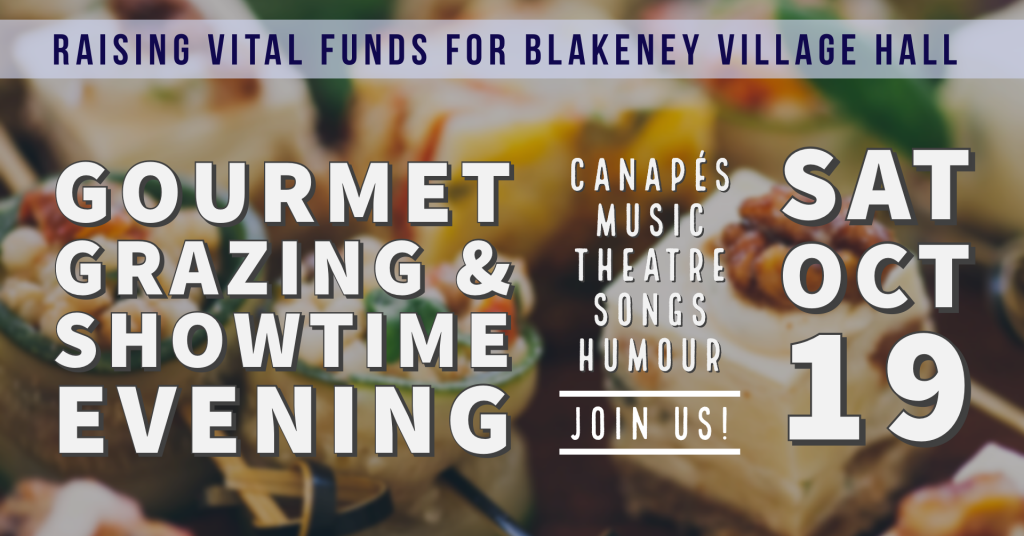 Gourmet grazing and showtime evening on Saturday 19th October 2019 to raise funds for Blakeney Village Hall.
About this Event
Join us for a spectacular evening of exclusive canapés, music, theatre, songs and humour and enjoy a superb evening of top-quality entertainment whilst raising funds for an extremely valuable cause…
Mouth-watering canapés by Blakeney chef Jill Tibbetts and other local chefs
The Blakeney Old Wild Rovers with an amazing light show and thrilling special effects teamed with a thumping good collection of songs old and new
Singer/songwriter Steve Evans – a hilarious collection of his own songs to have you rolling around with the giggles
CADS – Cley Amateur Dramatic Society – Reformed specially for this performance of their own witty, clever masterpiece
This event is raising vital funding for Blakeney Village Hall – unfortunately we need to spend rather more than a penny when it comes to our toilets – and this event is the first in a series of exciting events to allow us to get the loos in a fit state for our users, visitors and community; it's everybody's hall after all.
What better way to spend your evening than with terrific food, top-quality entertainment from some exceptionally talented people in great company.
See you there!
Tickets £10
Tickets may be purchased locally at:
Westons Fish shop in Westgate Street,
Blakeney Garage (although this is undergoing refurbishment and may be closed around this time) or
by calling 01263 741082.
Online at Eventbrite by clicking here. (This opens in a new tab.)